LET'S TAKE A LOOK AT SOME OF THE INFERTILITY CHALLENGES THIS BOOK ADDRESSES AND THE SOLUTIONS IT OFFERS:
Managing The Stress
Of
Infertility
How To Balance Your Emotions,
Get The Support You Need,
And Deal With Painful Social Situations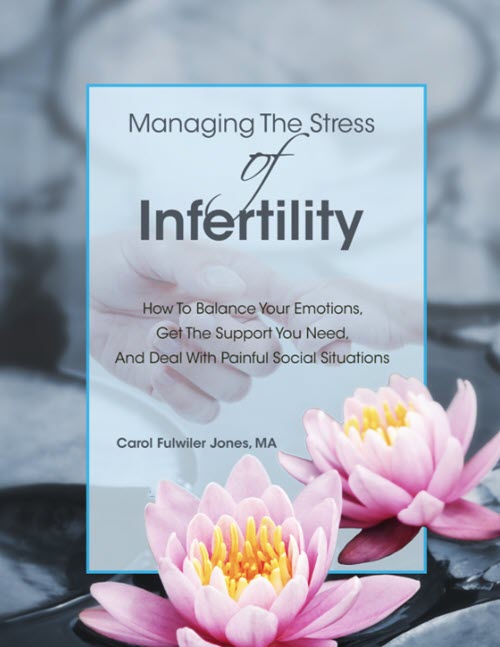 You have been in your doctor's office many times this month for testing and treatment to help you get pregnant. You are hopeful this will be your last month of medical treatment, and you are becoming depleted financially, physically, emotionally, and spiritually. You anxiously wait to find out whether you will start your period or have a positive pregnancy test. This is on your mind constantly as it gets closer to when you may start your period. Then your period begins and you spiral down quickly into sadness, disappointment, and tears. Let the tears flow. They are healing. My book addresses ways to shift your attitudes and beliefs to a more positive and hopeful outlook. It's really about letting go of fear.  
You feel you have no control over whether you get pregnant, and this leaves you feeling helpless and powerless. You also feel you have no control over your body. You want to be pregnant now and your body isn't cooperating. You have probably been able to achieve most things you have wanted in your life, such as completing your education or finding the right job. By setting realistic goals, you can usually work hard to achieve them. It's frustrating that success in pregnancy and parenting has nothing to do with hard work. There are plenty of women who do not even want to be mothers, and they get pregnant easily or accidentally. This seems so unfair. This feeling of having no control over if or when you become pregnant is very upsetting and frustrating. That's why I have devoted an entire chapter in my book to help you let go of what you cannot control and make wise choices about what you can control during infertility. You will learn how to change your attitudes and beliefs about control and how to take exquisite care of yourself as you prepare for a healthy pregnancy.
Even well-meaning friends and family ask inappropriate questions, make insensitive comments, and say things that upset you and hurt your feelings. You start not answering their phone calls and think of excuses to avoid seeing them. You start isolating yourself and staying home more so you don't have to see pregnant women and babies. This is a relevant quote from one woman I counseled:
"It's difficult to be a part of a daily conversation where everyone is discussing having another baby, confiding whether they want a boy or a girl, how many they want altogether, and how they will decorate the new nursery room. To this day, no one seems to particularly care about my feelings. I find myself making some kind of snide remark or walking away altogether. My family seems to think I've always got a problem, but what they don't seem to ever understand is that I just wanted another baby like each of them. You would think this would be such a simple concept."
This passage is taken from my book and it perfectly illustrates the frustration of so many women going through therapy for infertility.  I've included lots of personal stories like this one in Managing The Stress Of Infertility: How To Balance Your Emotions, Get The Support You Need, And Deal With Painful Social Situations. I included these quotes because, in my infertility counseling work, I've observed the power that real life stories have to ease the pain and reassure you that you're not alone.
Learn how to answer painful questions like, "How many children do you have?"
When someone asks questions like, "Do you have children?", "Do you want children?" or "Are you trying to get pregnant?" they are typically trying to be friendly and make conversation. People you meet don't intend to cause you pain or discomfort when they ask questions about children. However, these questions can be painful, especially when you are not expecting them and are not sure how to answer them. My ebook shows you word-for-word answers to questions that cause you pain. Download the book here and you can start reading the answers on page 73.
Learn how to deal with insensitive comments & unwanted advice about getting pregnant.
Setting rules and boundaries will keep you emotionally safe. I give word-for-word examples of what friends and family can say to be supportive (I expect you to hand it to them!). Friends and family can learn new and sensitive ways to respond to you, and this section of my book gives them practical tools and sensible advice.   
These are questions asked by most people experiencing infertility. The answers are found in Managing The Stress of Infertility.
Do you get upset when you attend baby showers or go to malls full of baby strollers and pregnant women?
Do you feel like crying when friends or family ask a question like, "Are you still trying to get pregnant?"
Do you wish your husband would be more supportive and take a more active role in your fertility and conception treatments?
Are you spending too much time worrying about becoming pregnant?
Do you feel like your body has betrayed you every time you start your period?
Do you feel helpless, powerless, and out of control?
  You're about to get some tips to manage your emotions, get your husband to be more supportive and involved, deal with painful social situations, ease your frustrations, and regain a sense of control.
Why do my emotions around trying to conceive seem more challenging than the treatments for infertility?
  You, like all women trying to get pregnant, have a lot to deal with: You're taking time off from work for doctor appointments, having blood drawn, having pelvic exams, ultrasounds, injections, taking basal temperatures, timing intercourse, and undergoing various diagnostic procedures. As if the cost and discomfort of solving the problems with fertility aren't enough, you also have to deal with being on an emotional roller coaster, a husband who may not participate in your medical treatments as much as you'd like, friends and family who make insensitive comments, and social situations that are almost unbearably painful (like a baby shower). I know what you're going through, not just as a therapist who counsels hundreds of women who are trying to get pregnant, but as somebody who, just like you, sought fertility treatments because I could not get pregnant on my own. I felt as if my body had betrayed me each month I didn't get pregnant. I gained weight while on fertility drugs. I didn't want to exercise because my ovaries were enlarged and sore, and sometimes I just didn't have the energy to exercise because I was feeling so sad and emotionally depleted. I didn't feel sexy, and I put off buying clothes in hopes that I would be buying maternity clothes soon. The main focus of my life was trying to become pregnant.
"What have I done to cause my infertility?"
I used to ask myself that question a lot. There were other ones too, like, "What have I done to deserve this? Am I being punished for something I have done?". It's not unusual to revisit negative behaviors, thoughts, and feelings from your past and wonder if they are in some way connected to your infertility. You may feel there is something wrong with your body and wonder if you have caused this disease. You may feel guilty because you spent many years trying to get an education or build a successful career rather than build a family.
"Is it normal to feel like crying when I see pregnant women and baby strollers?"
That was a feeling I experienced often when I was dealing with infertility. I'm sure you do too. The negative emotions and the sadness can be overwhelming. It isn't just the sadness, but it's also the worry and anxiety about whether you will become pregnant this month. For example, I know that if you wake up and take your basal temperature, you may start feeling anxious about whether or when you will ovulate this month. I know that you're suffering. You need new ways to manage intense emotions while trying to get pregnant, to get more support from your husband, and to have a plan for responding to insensitive comments and uncomfortable situations.
Why work with me as your coach during infertility?
 TO GET THE SUPPORT YOU NEED